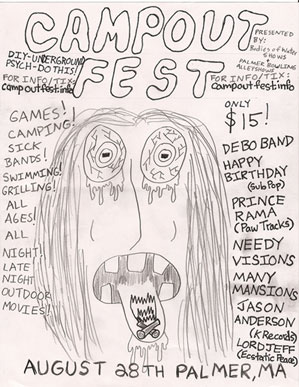 CAMPOUT FEST is a one night mini-fest of great music and people from the North East of the USofA being held at Camp Stanica in Palmer, MA.

The event is being put on by Bodies of Water Shows, out of Boston, the folks who have put on shows @ The Palmer Bowling Alley/The Shed and some like minded friends. The idea is to have a summer gathering where people can hangout, do some open fire cooking, sleep under the stars, and hear some of the best music going in our corner of the country. The festivities will begin @ 12pm on August 28th and end at 12pm on August 29th.

There will be games, late night outdoor movies, swimming, camping, and of course tons of great MUSIC.

Campers will have to bring their own food and camping gear. This is going to be AMAZINGLY FUN so come along, bring what you need to to have a good time, be smart about it, and plan to respect the camp so that we can do this again and again and again and again.

UPDATED LIST OF BANDS:
Happy Birthday, Eric Hnatow, Debo Band, Jason Anderson, Prince Rama, Needy Visions, Many Mansions

Special late night acoustic performances by:
Mmoss, Lord Jeff, Ambitious Tugboat + more!


Download the flyer!

MOVIES
WET HOT AMERICAN SUMMER
MEATBALLS
HEAVYWEIGHTS
ERNEST GOES TO CAMP
FRIDAY THE 13th Part V11: The New Blood
Movies shown will be voted on by the audience! That's YOU!


Camp Stanica
22 Paul Street
Palmer, Massachusetts
For questions: 857-234-6620

All of this for $15! Reserve your ticket now via the PayPal button to your right.